With the rise of the Internet in just about every sector, it's not surprising that business owners are taking advantage of the online market for their advertising and sales.  But thriving in the world of e-commerce is no small feat, simply because competition is getting steeper and steeper.

To stand out from the pack, you need a fabulous website that's optimized at every level.
A Responsive Design Website
So you've built up an Internet presence. That's a good start. But it's far from enough.  It is essential to be accessible to everyone everywhere! How do you do it? Two words: "Mobile First!"  How does it work? The idea is to make sure that your website can adapt to all types of screens. These days, prospects are using their phones more and more when they search for products and info online. A website with an adaptive design therefore provides a sure bet for drawing these potential customers in. You have almost certainly heard of "Responsive Design." As its name suggests, it refers to a website creation technique that aims to make reading easy and pleasant, no matter the visitor's device or screen resolution.
A Site with a Stellar User Experience
The navigation experience entails an important criterion in a website's rating.  This means you need to check to see if it is easy to make purchases on your website from a cellphone.
There are several different technology options that let you improve the mobile user experience on an e-commerce site:
AMP (Accelerated Mobile Pages) technology is unique in its ability to reduce page loading time. Navigation becomes faster and more fluid, decreasing your rebound rate and optimizing conversion.
PWA (Progressive Web App) technology converts your website to mobile app format. Many e-commerce site owners use this technique and have already observed that the plug-in has resulted in an increase in their number of visits and purchase totals.
A High-Performance Site
A rise in mobile traffic must pair together with a swift and solid loading time. For a modern website, loading time needs to be less than 3 seconds if you want to create a fabulous user experience.  These little tricks will help you improve your website performance.
Lighten your code.
Cached data will help your pages load faster.
Optimized images, with a WebP format (made available by Google to compress images while keeping a high-quality resolution).
CDN (Content Delivery Network) that sends data to the server that's closest to the user.
Compressed Files
When it comes to e-commerce, we also want to look at the ease of your ordering process.  You have to make sure that your user who is ready to order does not get held up by a long form they need to fill out, or any other tedious steps.  Optimize your payment page so that your customers can make their purchases as swiftly as possible.
Try to simplify the navigation and purchase experience as much as you can for your customers. This is what will make sure you have a high-performance site!
A Website that Offers Your Customers a Personal Welcome
To customize your website and offer each visitor a warm and wonderful welcome, we've got some tried and true tricks:
A welcome message
Product recommendations
Language and currency that adapts to the user's location
Wide choice of payment methods. From cryptocurrency to online wallets like Apple Pay, Google Pay, Afterpay or ZipPay, each user has their own preference.
Current trends also include chatbots, which certainly have their advantages.  Chatbots can stand in as a customer support team.  They can help users and sometimes even suggest products to encourage faster sales.  With bots, customers get more immediate answers, and this reduction in wait time is a sure factor in guaranteed satisfaction.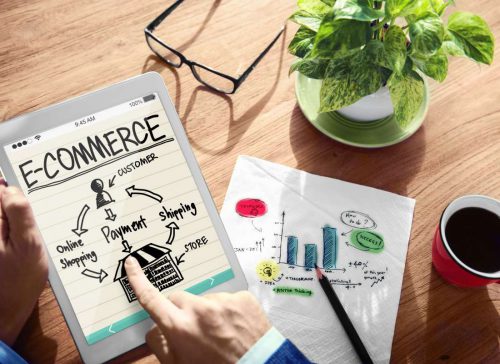 In an online store, the possibility to filter products enhances the user experience. With a fast filter, the customer can easily find exactly what they're looking for in just a few clicks.  Remember that your filter needs to be well designed.  It's crucial that all your options make sense.  Filters let your clients make customized searches.
You can also consider building your customer loyalty by setting up subscription plans.
This sales technique is very practical for informing a client that the product they want to buy is back in stock or letting them know about offers they might like, based on their previous purchases.  With a subscription service, you can stay in touch with your customers and share upcoming offers like clearance sales, promotions and new products!
To go further in e-commerce and make your site even more efficient, other options are possible. You've definitely tested voice commerce or image search. The practicality of these techniques is exceptional! To display your products well, the three-dimensional effect is another popular trend. The user can see the product from different angles. This 3D display reduces returns and improves customer satisfaction…
And as a last point, make your site vibrant and dynamic.  You can use small animation to guide your users in their search and buying process.  But it's still a good idea to stay minimalist and not bog down your site. Nobody likes clutter!