Optimize Your Landing Pages to Boost Your Conversions
There are 1001 ways to boost your landing pages and it's not always easy to figure out the best practices. In this article, you'll find a toolbox of proven techniques that will help to generate conversions from your landing pages.  We'll talk about the various methods adapted to each different category of web pages.  Let's get started and learn how to optimize your landing pages for mobile users.
Optimize Your Landing Pages for Mobile
More and more consumers are using their smartphones to surf the Internet. So if you're ignoring the fact that you need a mobile version of your landing pages, you're missing out on an opportunity to grow your business online.  Here are some best practices:
Simplify your forms so they're easy to fill out.
Avoid complex fields, extensive drop-down lists and tedious forms. The more you can make it short and simple, the easier it will be for cellphone users. It's also possible to customize each field to correspond with the keyboard your prospects need. When you request a telephone number, you can set up the form to automatically switch to the users' numerical keyboard.  Then you can switch it back to the alphabetical keyboard when it's time to enter an email address.
Opt for a floating or scrolling Call-to-Action button.
When you choose where to put your CTA, make sure users will be able to see it as soon as they land on your page for the first time.  This is how you'll be able to keep on top of your conversion goals.  The idea is you want a CTA to float along with your users as they scroll down your landing page.  As your prospects browse your landing page, the CTA should remain pinned at the top of their screen. Users will always have it in their sight and never have to scroll backwards to find a form.  For another tip, make your CTA button stand out by choosing a different colour than the rest of your landing page.
3. Optimize the Readability of Your Landing Page
Bid farewell to landing pages whose texts become unmanageable in mobile formats. To make your content visible, use a font of at least 15 pixels on your landing page.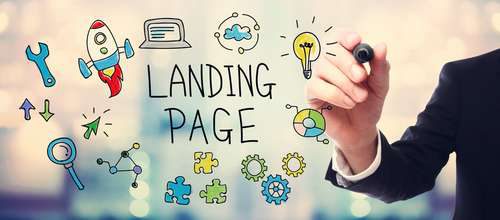 What about B2B landing pages?
Know that a user who's consulting your landing page is already in the midst of the buyer's journey.  This means that you should remove all elements that would be better off on your home page.  Users who come to your landing page are looking for something specific. That's what you need to give them if you want to improve your conversions. Here are a few practical tips below.
   1.Use a single CTA
A single CTA points to a single goal, and that's what a landing page needs to have.   A user will come to your landing page for a specific reason, for example, to download a free e-book.  All the information on your landing page must therefore contribute to achieving this goal.  The most effective pages respect the 1/1 ratio: One landing page per conversion objective.
Create a landing page for each campaign message
It's easy to detect a poorly optimized landing page.  You can tell because a user who's looking for info on a specific product or service is directed to the wrong place. Instead of hitting your dedicated landing page, they end up on your homepage.  So instead of directing your prospects to your homepage, send them to the dedicated landing pages where they can access the product or service they're looking for.
In other words, for every individual ad, create a dedicated landing page.  This will boost your conversions. You also want to give your clients an easy way to contact you. One way to do this is by installing a call-back widget that analyzes visitor behaviour on your website and initiates a call when the visitor is most likely to conclude a purchase.
Showcase your testimonials and customer reviews
Reviews and testimonials grant social proof, a solid pledge for conversions on your page.  Show that other users and companies are ready to sing the praises of your product You'll gain trust and credibility with your Internet visitors.  Post real information. Your users' positive reviews will strengthen conversions on your landing pages.  Ask your happy customers to express their satisfaction in a testimonial.  Even better, you can add a photo to the testimonial.
Guide your customer through the conversion funnel
With B2B landing pages, you can coax your prospects through your conversion funnel faster.  An optimized landing page is a sure bet for transforming your visitors into clients with just one page.  To do so, include relevant and compelling CTA's like "Select your plan" or "Request price." Your content needs to instill interest in your services and guide your prospects in their purchase process.
What about Pay-per-Click ads?
Did you know that conversion is low for 97% of PPC ads, because the landing pages they link to are not optimized.  Luckily, there's a quick fix for that. Follow these steps:
The right message for each ad
You've already devoted a budget to your sponsored link. It would be a waste to not optimize your ads so that they boost conversions on your site.
If a potential client clicks on an ad, they expect to be led to a landing page that contains the information they need.  Otherwise, they will leave the page.  Your landing page therefore needs to offer an answer that matches the user's query.
Keep one goal in mind
If you're among the people who have the habit of inserting links that lead to social media pages, your homepage or another product on another landing page, it's time to stop this practice.   Whoever clicked on your ad has one goal in mind.  The user typed a specific keyword to end up on your landing page. They are not randomly surfing the web. They're looking for something specific.  There is therefore no need to redirect them to another page once they're on your landing page. You'll detract the user from their goal.
Write multiple variations of targeted ads
Publish distinct and targeted ads. Generic ads will lead users to your homepage, which will drive them away from conversion.  Relevant ads will inspire people to click and that's what you need!
Think about remarketing
If you're paying to bring people to your landing page, you might as well make the most of your investment.  With  remarketing, this is possible. Once you have a good sense of the product or service the user is looking for, you'll be able to target them again on platforms like social media.
Tips for SEO Optimized Landing Pages
To make your landing page stand out, follow these tips:
Choose a clear, concise and catchy title. The goal is to inspire the user to click on it.
Make sure you include keywords on your landing page to optimize it for SEO. As much as possible, your landing page's main keywords should be written into your URL and metadescription, headers, page titles and body text.
Submit your photos to Google by adding text descriptions. Each image on your page should have a name and ideally a description written with keywords. The content needs to be as simple as possible.  The "alt" tag can also do the trick.
Optimize your meta data. They give an overview of what the user will find on your landing page. It's your first method for convincing Internet users to come to your website. Remember: your tag description should not exceed 160 characters.
Make sure that your content matches the user's query. Don't try to convince people to click on your landing page if you don't have the answer to their needs. The principle is simple: if users click on your landing page, they need to find the answer to the questions, "Who? What? Where? and Why?"
Try these tricks yourself. Look for a product or service with a keyword that could generate a particular landing page on your site. When you get the result, ask yourself if the answer is obvious and appropriate.
Follow these best practices to boost your conversions. Keep in mind that by making the customer experience and journey simple, you will increase your company's sales.