We sat down with Fernando Medeiros, Team Leader for Linkeo Montréal's North Sector. He told us all about his adventures in sales, digital marketing, and his multi-decade love affair for the world wide web.
Meet Fernando
A teenager of the nineties, Fernando Medeiros grew up fascinated with the Internet.
"I loved how easy it was to look up information on just about anything. And in just a few clicks, I could find the guitar tabs I wanted," says the Linkeo Team Leader. At his home office, he sits amidst six guitars, two bass guitars, and at least two amps.
For his first high school job, Fernando worked in a library where he could borrow as many books as he wanted about the Internet. This was back when a visit to the world wide web meant clogging up your phone line with the sound of a high-pitched broken TV channel. Even so, Fernando couldn't get enough of the web and the technology that went with it. Eventually, he landed a job selling Apple products long before Apple came to town.
In university, he studied IT and computer programming. For his electives, he signed up for as many web courses as he could. With his sights set on programming, he went to work at an Internet company.
"That was when I realized I was not built to sit in front of a computer all day." For a time, he sold software on the road. And then he discovered Linkeo.
The Interview
In 2015, the Director of Sales called him in for an interview.
"I remember Joël and I had lots to talk about. The interview ran so long I had to leave to pay for more parking. Right away, I loved how Linkeo offered thorough training to its sales reps. I felt motivated to learn more about Linkeo's web products."
Armed with new knowledge and an offer he could trust, Fernando hit the road to meet new prospects.
"During my first week I ended up giving a pitch over the phone. The customer was paying eight times more than what Linkeo charged. She wanted to sign right away."
He made a second sale the following week, this time with a Windows and Doors company. The client—Aluminium Maurice Forest—is still with Linkeo, renewing each year and consistently adding new features to their package.
"I've never had a hard time convincing prospects to commit to our offers. I present our offers and that's it. Business owners are willing to give it a try. Many of my earliest customers never left. Over the years, we've redone their websites. We can refresh their brand image or add new solutions like online booking or Click and Collect. Whatever they need."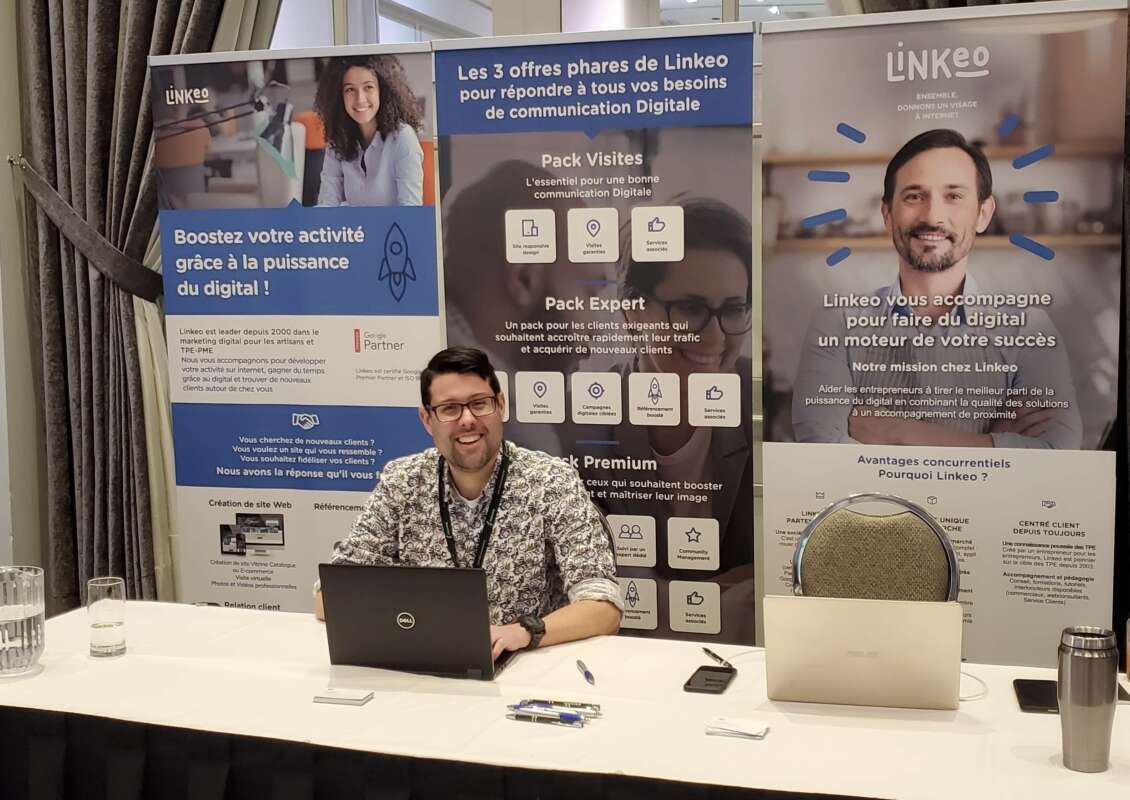 A Natural Born Leader
Within just nine months with Linkeo, Fernando's leadership strengths shone through, and his colleagues nominated him to become team leader of the Montréal South Shore sector. In 2019, he switched to Montréal North, where he continues to work today.
"What I like about my job is it's never the same. At Linkeo, our products are always evolving. I love that we keep things moving. It makes my life more fun since I'm the one who gets to explain all the changes."
Fernando's favourite Linkeo Product
These days, Fernando is most excited about Linkeo's new and improved SEO offer. SEO has always been Linkeo's specialty, allowing businesses to get to the top of Google without paying extra for advertising. But with the rise of Search Ads and Google Business Profile listings, it has become increasingly difficult to make your mark with natural SEO.
"So with boosted SEO, we're working our offsite game to support existing websites. Our SEM teams are using back pages, backlinks and directory listings to increase visibility. The prices are competitive and it's proving to be three times more effective than regular SEO. This is just one example of how we've adapted to the market."
A Day in the Life
In a typical day, Fernando supports his team of sales reps through phone calls, workshops, and one-on-one coaching. The goal is to help them to build their confidence and skills as Linkeo representatives. Mondays and Tuesdays are at the office, and Wednesday to Fridays are on the road.
"It's my job to keep the good vibes going, whatever that takes."
Every morning Fernando does a check-in with each of his reps to make sure they're ready for the day ahead. Together, they'll look at their plan and Fernando will give them tips for their meetings. After each appointment, they do a recap to debrief what went well and how to improve for next time. And if someone's struggling with a specific element of their presentations, Fernando will give a special workshop or coaching on how to overcome these challenges.
"It's extra rewarding when a rep takes my advice and training and ends up connecting with our customers and making a sale."
To Australia and Beyond—and Back
Fernando's winning advice has already been solicited from across the world in Australia. In 2017, the Linkeo Australia sales team was not thriving. So, with a stop in Fiji, Fernando and a colleague came to the rescue.
"Before we arrived, they'd only had four sales in the past month. We got to work right away and by the time we left two weeks later, they'd already made 11 sales."
Fernando was open to staying in the Southern hemisphere, but life had other plans. After meeting his partner (who taught him tons of Spanish and took him to the best parts of Mexico), Fernando is now the proud father of a vibrant toddler. His weeks are busy, but Fernando still fits in Sunday soccer games and band rehearsals where he plays the bass. Meanwhile, Linkeo Montréal is thankful to have him as one of our longstanding members, known for his can-do attitude and cheerful outlook.
"I was raised to focus on the positive. The positive attracts more positive. So I try not to stress."
And as long as Fernando's around, we won't stress either.