Vandal Design is Québec's leader in car wrapping and specialty graphics for vehicles. Owner Frédéric Vandal sought out Linkeo to help with his website and online visibility.
The Customer
Frédéric Vandal always had a passion for sports cars and drawing. Back in the 1990s, a friend got a peek of some of his artwork and asked if he would make him some stickers for his truck. From there, word spread, and Vandal Design was born. Founded in 1995, the company offers all types of graphic design—they've even decorated a few coffins—but their specialty lies in car wrapping and vehicle exteriors.
"We do logos, lettering, and stripes—whatever you want to personalize your vehicle. It's a bit like a tattoo for cars," says Frédéric.  In addition to his creativity and groovy graphics, Frédéric is known for his friendly, approachable personality and ability to bring his client's visions to life.
The Challenge
Frédéric thought about building a website for years but life as a small business owner can get busy. "Then the pandemic hit and I realized we didn't have a choice. People weren't leaving their houses. But with a website, they could view my work and get in touch in a couple of clicks."
His goal was to be more accessible for his clients. Besides word-of-mouth, he was relying on a Facebook page for advertising, but it's tough to crack the algorithms without a targeted campaign. After shopping around for different packages, Frédéric chose Linkeo, where he felt immediately welcomed by his sales rep, Laurence.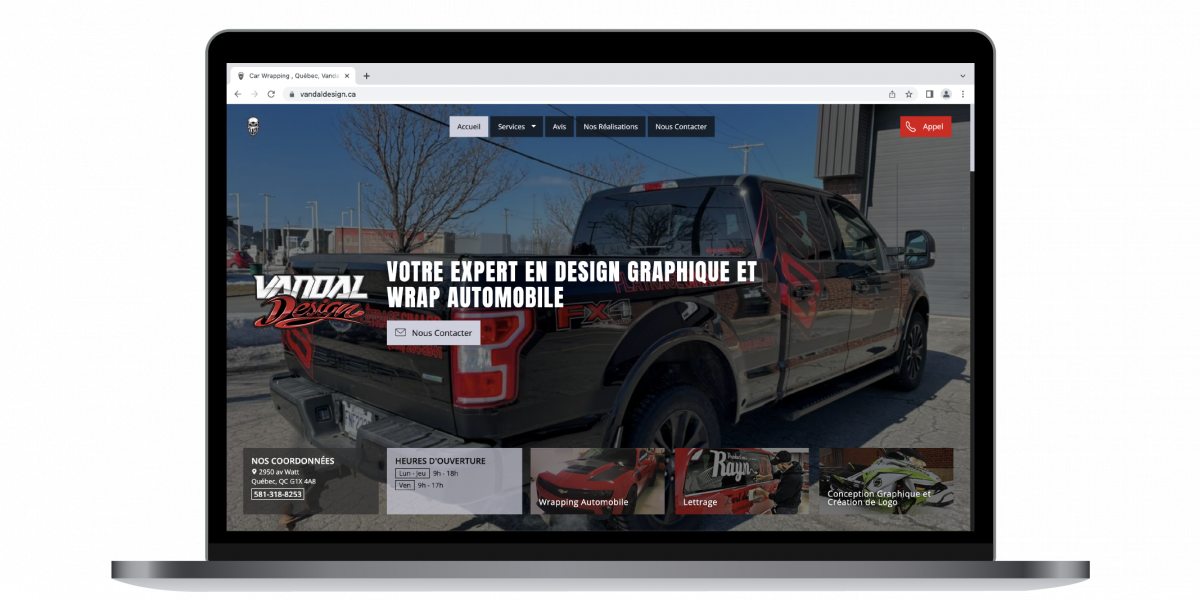 The Solution
Laurence, Frédéric's Linkeo sales rep, set up Vandal Design with a brand-new website and revitalized Facebook page. To boost his visibility, he also benefits from customized ad campaigns on Google and social media.
"More and more, clients are contacting me via email and Facebook. I find I've changed my mode of communication. The world is doing their shopping online and we need to adapt."
A showcase website has become essential for any business owner. But it's especially perfect for entrepreneurs like Frédéric who offer a unique, creative product. Clients can browse the site and see his talent in action. Car photos look great online and if ever Frédéric wants to switch things up, changes are simple and intuitive. And Laurence is always available in case he needs extra support.
The Results
The website for Vandal Design attracts over 800 visitors a month, with many visitors getting in touch through his web call back number and contact form. His conversion rate is 4.6% is considered to be very good.
As Linkeo helps him his mark on the Internet, Frédéric can focus on making new signature looks for his clients' vehicles. "If it's their first experience with car wrapping, sometimes they can be a bit nervous. But time and again, they end up so grateful and happy. I love to surpass their expectations."
Compared to before he found Linkeo, Frédéric says, "I definitely have more clients. With the ad campaigns, I'll even get more requests than I have time for. But that's what we call a good problem." And that's what we call a good wrap!