Ranch owner Isabelle Racine is too busy with horses to sweat about admin. Enter Planner by Linkeo—an eff­ortless online booking solution that dovetails with her stunning website.

THE CUSTOMER
Designed to help people connect with nature and themselves, Ranch au gré du vent combines spirituality with a love of horses and the great outdoors. An hour east of Montréal, the holistic riding centre off­ers transformative equestrian experiences to enthusiasts of all ages and abilities.
For Isabelle Racine, building her ranch was a calling. Her horseback riding sessions come with a unique, spiritual element. To make the benefits accessible to all, Isabelle is trained to o­ffer therapeutic riding to people with physical, psychological and emotional challenges.
THE CHALLENGE
From the moment she founded the ranch, Isabelle knew that she needed a website. Within a few months, her Linkeo sales rep approached her.
"Linkeo came at the right moment," she says. "I'm spiritual, so when a door opens, I always tell myself, well, let's see what's here."
Isabelle went ahead and worked with her web expert to build the beautiful site she'd envisioned. Though it was a great start, there were other challenges to overcome.
"I spend all my days outside," says Isabelle, who runs the ranch solo. At the end of the day, it would sometimes take her spend several hours catching up on voicemail and appointment requests. The time-consuming process took away from her favourite parts of her business.
THE SOLUTION
Over the summer of 2020, Isabelle integrated Planner by Linkeo, Linkeo's online booking solution. The simple and intuitive platform lets clients book their sessions from any device.
Isabelle can also specify the maximum number of participants per time slot. Clients will then enter their weight, height, age and experience level. Once they book their appointment, Planner by Linkeo sends out an instant confirmation text or email to both Isabelle and the participants. Everyone has all the information they need.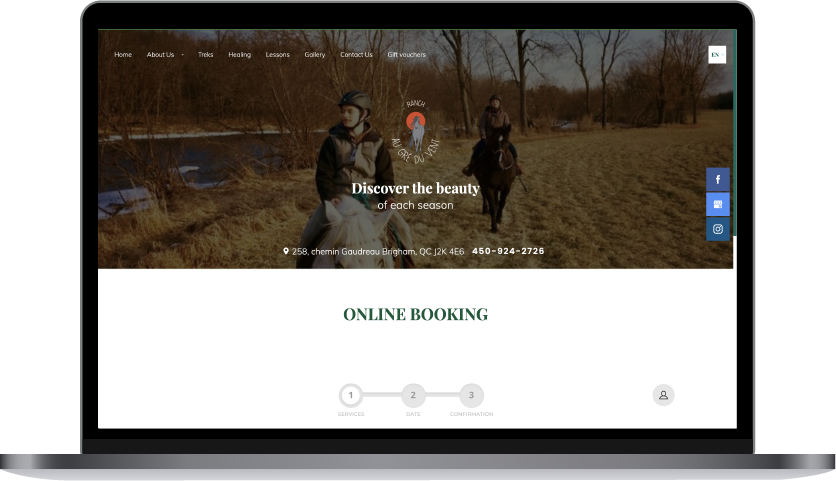 "I don't need to call them to confirm," says Isabelle. Planner by Linkeo sends out a second reminder the night before the appointment. And because customers have made a deposit, they almost always show up.
Planner by Linkeo also off­ers gift cards, which clients can purchase and redeem directly on the ranch's website.
THE RESULTS
"Planner by Linkeo has totally improved my life," says Isabelle.
On her voice mail, she refers her clients to her website and at the end of the day, she has way fewer appointments to take care of. "If I calculate how much time I save, it's definitely worth the price."
As for her website, "I only get positive feedback," she says. Her website brings in over 1,800 visitors per month, with 8.5% of these prospects getting in touch to make appointments.
Though life at the ranch is busy, it's also rich and fulfilling.
"I get to live my passion and share it with others," says Isabelle.
And thanks to Linkeo's solutions, she can take her passion out of the office and onto the trails.