Dr. Robert A. Donaldson is a Montréal podiatrist with a hands-on approach to feet—and a hands-off approach to marketing. So, to keep people walking through the door, his clinic relies on word-of-mouth and a cost-effective Linkeo website and SEO strategy.

THE CUSTOMER
Run by husband-and-wife team Dr. Robert Donaldson and Lynn Lazette, the clinic offers affordable relief from all types of foot and ankle problems. Dr. Donaldson takes care of everything from medical pedicures to bunion surgery while Lynn handles the rest—appointments, accounting, publicity, you name it. And all for a great cause:
"When your feet hurt, everything hurts. And it's rewarding to watch people regain their foundation after years of discomfort," says Lynn. "We change their lives, and they never look back." The podiatry clinic currently has two suburban Montréal locations, with one foot in Saint Leonard and the other in Dollard-des-Ormeaux.
THE CHALLENGE
When they first opened, Dr. Donaldson's clinic dominated a sparse market without much competition. But with the new podiatry school in nearby Trois-Rivières, the area has seen a whole new generation of specialists step out onto the local foot-care scene. However, they don't offer the same level of service.
"Dr. Donaldson is a cut above because he's also a qualified surgeon. So his patients are in solid hands—no matter how serious their issues are," says Lynn. To spread the word, she signed up to advertise with one of Linkeo's competitors, but that didn't help. Despite exorbitant fees, the clinic did not see a noticeable increase in business.
THE SOLUTION
That is, until a Linkeo sales rep reached out with an offer she couldn't refuse. Today, the clinic's website showcases what sets Dr. Donaldson apart—his lofty credentials and 25 years of loving feet. And all this at a price that makes more sense to the bottom line!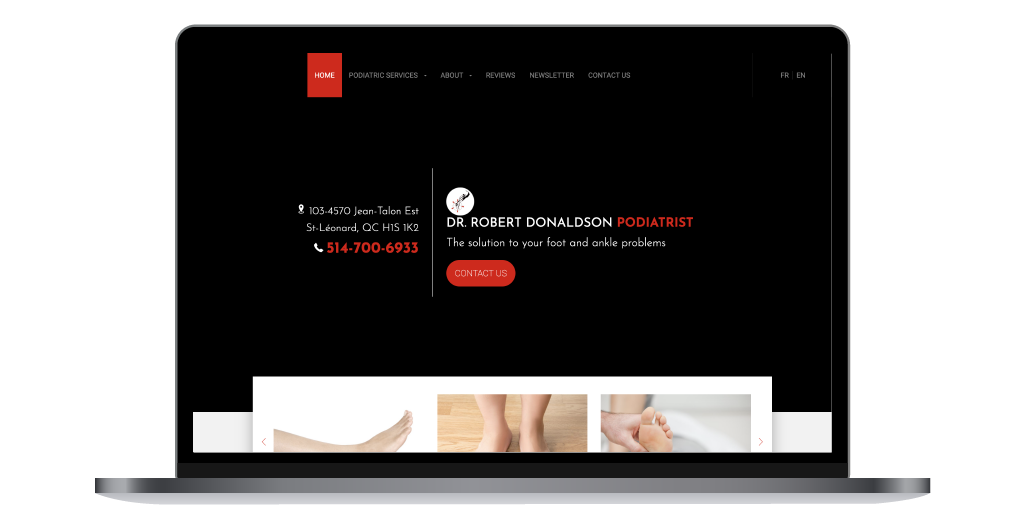 "It's reassuring for potential patients to know about his medical training up front," says Lynn. "Plus, they can see our before-and-after surgery shots and read up on everything they need to know about a particular condition."  Another advantage of course is that changes are a snap. Lynn either edits the website herself or picks up the phone and one of Linkeo's friendly web experts does it for her. "Life gets busy when you're running two clinics. So easy updates are a dream!"
What's more, with Linkeo's proven SEO strategy, Dr. Donaldson comes first in foot-care searches in the Montréal area. "We're always a click away. And that's such a relief for people with foot pain."
THE RESULTS
These days, Dr. Donaldson's Linkeo website brings in nearly 2,000 unique visitors every month. "I love that we can offer our clients honest care they can trust. In our industry, there are unfortunately so many scams. Patients are often told they need a ten-thousand-dollar surgery when all they need is a pair of orthotics. We see this kind of thing all this time. It's one of the reasons we're especially grateful that our website sends people directly to us."
With Linkeo now supporting every step, Dr. Donaldson and Lynn can continue their path to success. And that's a relief for everyone!