Lockdown brought quarantine hair—with mixed results. And now that restrictions have lifted, hairdressers are more popular than ever. To stay on top of her schedule, salon owner Lilli of Chez Lilyane depends on Planner by Linkeo, an easy online booking solution to go with her fabulous website.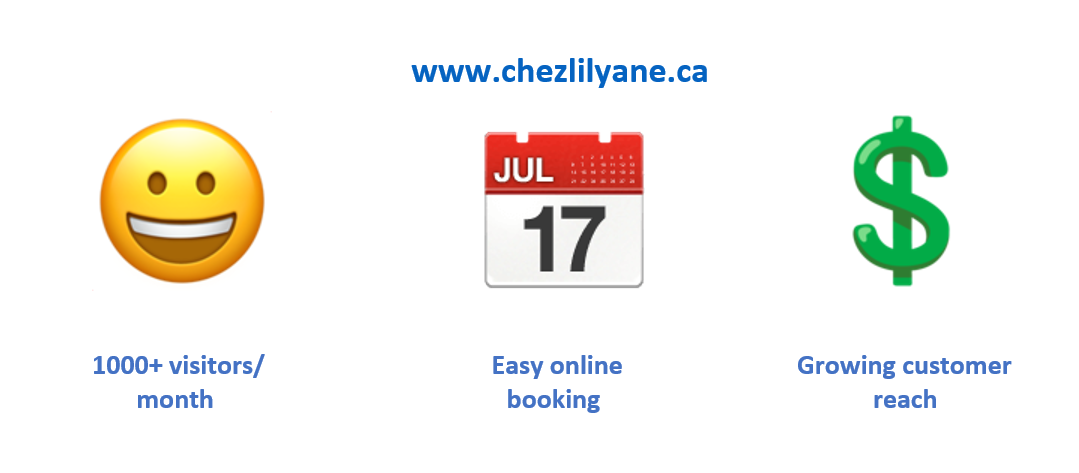 The Client
Born out of Lilli's love for helping others, Chez Lilyane offers a full spectrum of hair and beauty services. The Ottawa and Gatineau-based salon is known for its specialty in Afro hair care and styles.
"Your hair can make or break your day," says Lily. "So often my new clients walk in discouraged that their hair is too short, too damaged. But with braids and extensions, there's so much you can do. People leave loving their new look."
Lily did her hairdresser training in Benin. She has also completed a certificate in sewing while she was living in Togo. In addition to hairdressing, the salon offers tailoring and dressmaking services. As her loyal clientele grows, Lily has begun to apprentice employees in both trades. Her staff includes a full-time aesthetician who specializes in manicures and pedicures.
The Challenge
Eight years into running her business, Lily was ready for a brand image makeover. She was also looking to attract clients outside her current network.
"I manage my business all alone," says Lily. "And remember, I offer sewing on top of my hairstyling clients. At the end of the day, there just isn't time to put more energy into advertising."
Scheduling presented another major challenge. "With two different services, the phones were always ringing. My calendar was getting really complicated."
The Solution 
Enter Linkeo sales rep Chapeta, who presented Lily with the web agency's game-changing packages.   Lily was impressed by the opportunities for increased visibility.  But what stood out the most was Planner by Linkeo.
"I knew it would make such a difference if my clients could book their appointments online," says Lily. And she was right. "I save so much time and feel way more organized. Planner maps out all my bookings for the week. So if a client calls last minute I can clearly see which slots I have available."
Customers can also modify and cancel their appointments directly on the salon's website. And to reduce no-shows, Planner will send them an automatic email confirmation and reminder their session is coming up.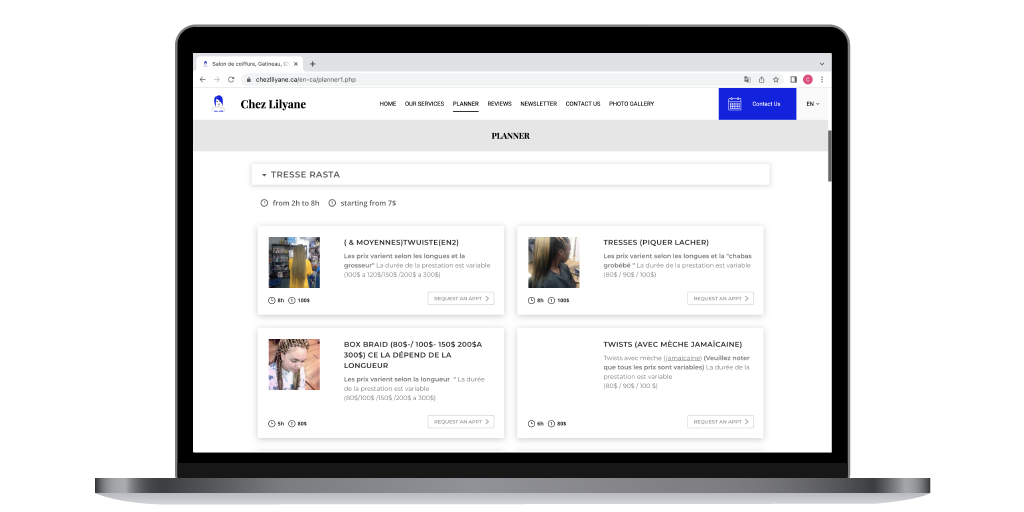 The Results
"With Planner, I get to be open 24/7," says Lily. "Sometimes clients I don't even know will book in the middle of the night." The salon's fresh new website attracts 1000 visitors per month, enough to keep Lily on her feet. And thanks to Linkeo's SEO and Google Ad campaigns the salon is drawing in customers from a wider catchment area. Once they discover her niche services, clients will drive over two hours to get their hair done at Chez Lilyane.
"My days are so full and rewarding," says Lily. "You don't see the days go by." With her cut above online presence, she's growing her business in style. The pandemic may have closed down salons once or twice, but these days, nothing is getting in people's way of great hair.