Buying local is one of today's biggest trends and meat-lovers have hopped on the bandwagon. As a trusted gourmet butcher in regional Quebec, Boucherie J.C. Fortin turned to Linkeo to upgrade their website and create an online order solution that reduces lineups and maximizes sales.

THE CUSTOMER
Serving the Mauricie region for more than 60 years, Boucherie J.C. Fortin is known for premium cuts, friendly service, and locally sourced products. Their signature selection includes sausages, condiments, prepared meals, and much more. And today, this family-run outfit is co-managed by brother-and-sister team, Daniel and Martine Fortin.
"It's a feel-good company," says Daniel. "Our customers know us well, and love being able to trust a reliable source for top-quality meat."
THE CHALLENGE
Once upon a time, Boucherie J.C. Fortin struggled to compete with supermarkets. That is, until COVID-19 hit and they suddenly had lineups out the door. "It was totally unexpected," says Daniel. "Demand went through the roof!"
Customers of the family-run business were used to a personal approach, and the challenge was to find a way of maintaining the same level of service all while ramping up capacity.
THE SOLUTION
"We were scrambling to keep up. And I knew it wasn't sustainable." admits Daniel. Incredibly, Linkeo was one step ahead. Daniel's sales rep, Olivier called offering a two-month free trial of Deliver by Linkeo—allowing Daniel to feature his entire product offering with a Click-and-Collect shopping cart enabled for pick-up and delivery.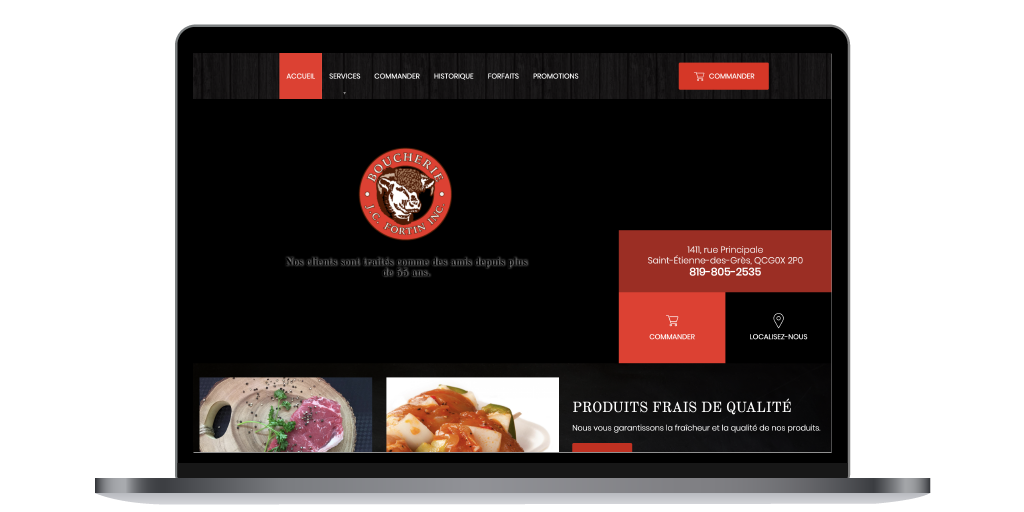 "It has totally streamlined our process," says Daniel.  "I can update everything myself. Our lineups are so much more manageable now. And I love being able to prepare orders ahead of time."
THE RESULTS
"So many businesses have had to close since the crisis, but we've had the opposite problem." Since February 2020, the website's total number of monthly visitors has almost tripled—rising from under 500 to over 1500.
It's a win-win situation, and with Linkeo on his side, Daniel knows that beefing up his marketing his strategy is only a click away.