"Because every little action counts—come on over and make a difference. " So says the motto of Mille et un bocaux. French for "a thousand and one jars," the zero-waste bulk grocery store is on a mission to reduce packaging and its toll on the environment. To spread the word throughout the Portneuf region of Quebec, store owner Marilyn called on Linkeo to build her website and promote her business through social media campaigns. 
The Customer
Marilyn describes Mille et un bocaux as everything you'll find in the middle aisles of a grocery store, from coffee and nuts, to flour, oils, and vinegar. It's a well-known haven for DIYers, carrying bulk natural products for people who want to make their own soap and cleaning supplies. Of course, you can also get ready-made eco-friendly household products. And if you're on the hunt for gift ideas, the boutique features crafts by local artisans and accessories for babies and children.
When she moved to Portneuf, Marilyn saw there was a lack of zero waste, bulk food options. She wanted to offer an alternative to regular shopping which tends to result in all sorts of plastic and paraphernalia heading off to the landfill.
"My goal was to show people where to start, without the pressure to be perfect. If we all work together, it can make a big impact."
A preschool teacher by trade, Marilyn continues in her role as an educator. "It's just that now I'm teaching adults who will go on to teach their children how we can build a more eco-friendly generation."
The Challenge
When she first opened, Marilyn did her best to build her own website. She wanted everyone in Portneuf to discover the rewards of a minimalist, zero-waste lifestyle. But the process was time-consuming, and she couldn't recreate the charm of her store online.
"I knew that people wouldn't need convincing. They are very open about ideas that will help the planet. But first they had to find me. So I turned to Linkeo to improve my online visibility."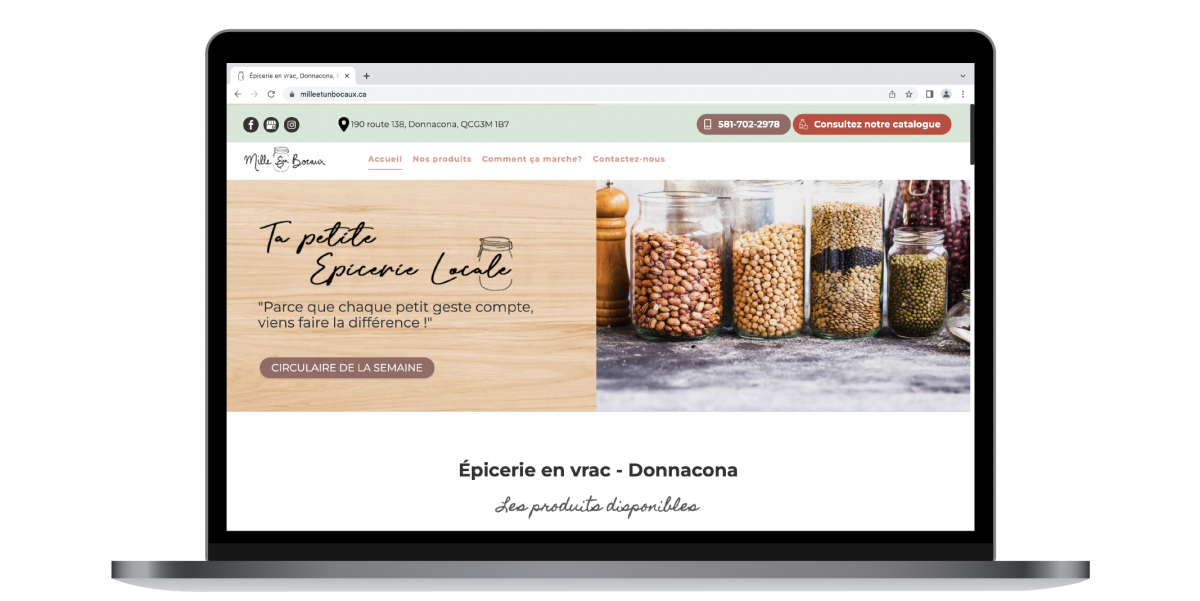 The Solution
With the Linkeo team by her side, Marilyn watched as her company image transformed.
"My website was suddenly so much more professional. Going in, I already had an idea of what I wanted. I can be a bit perfectionistic, but the Linkeo team was patient and ready to listen. And they didn't stop until they got it exactly right."
Her bright and welcoming website features an online product catalogue that customers can use as their shopping list and for budgeting.
To maximize her sales, her rep Laurence advised her to set up a Facebook Ads campaign which she can time to reach customers during less busy periods.
"It has been great working with Laurence. His follow-up is super fast and he always knows what to do—and when."
The Results
Linkeo's website for Mille et un bocaux brings in an average of 1600 visitors per month.
"My customers are constantly complimenting me on my beautiful website. And you can see the difference in my turnover. From one summer to the next, my store went from super quiet to bustling."
Marilyn also gets tons of positive feedback on her sponsored Facebook posts. And on top of their success in sales, the store was voted the number one must-visit business in Portneuf.
"It's rewarding to see how the store has created a sense of community. People are so happy to come here. It makes me proud of what I've built. Together with my clients, we're reducing waste and overpackaging."
And with Linkeo on her team, there are a thousand and one more ways to keep building, growing, and making a difference.