Spreading Their Passion for Acupuncture
Based in Pierrefonds, Acupuncture West Island is the passion project of Maxime Deshaies and Audrey Lesquelin. A fascination with Chinese medicine and Eastern philosophy led them both to pursue in-depth studies in acupuncture, one of the world's most ancient forms of medicine. The business partners are leaders in their field.
But Maxime and Audrey are trained in acupuncture, and not in convincing potential patients to come to their clinic.
"When we opened our clinic, we wanted to focus on our art." says Maxime. "To do so, we needed effective marketing solutions that were quick to implement." That's where Linkeo's website creation and SEO packages come in.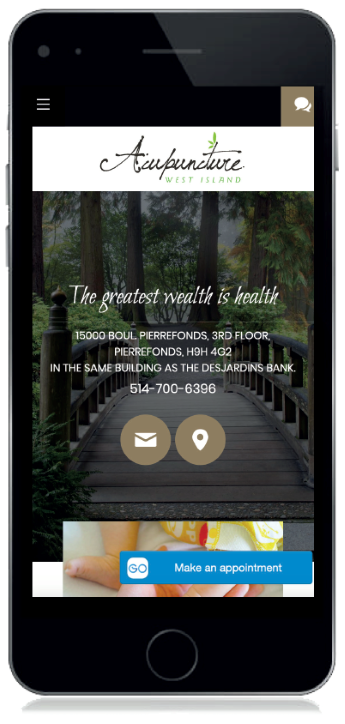 The Customer
After completing their acupuncture training in both China and Quebec, Maxime and Audrey founded Acupuncture West Island in 2011. "It's a powerful treatment," says Maxime. "With mechanisms of action that are becoming increasingly better understood by science, and effects that have nothing to do with the placebo or beliefs."
The treatment is also pain and chemical free, and the benefits come with little to no side effects. Through acupuncture, Maxime reports that he was surprised to meet so many "very different people and get to know them very quickly and deeply… It's very rich as a human experience."
In his practice, Maxime focuses on pain and injury relief, and the more traditional reasons that bring people to acupuncture. In addition to her expertise in fertility and pregnancy, Audrey also offers esthetic acupuncture. Both acupuncturists are well known in their field, and as such, they offer training to their fellow practitioners.
"It's rare that acupuncturists run multidisciplinary clinics," says Maxime. "We are very proud of what we've
accomplished so far."
The Challenge
Maxime cites the saying that goes, "Hire your weakness." He didn't want to spend all his time attracting new customers and organizing his schedule.
"I was tired of having to fight for every patient," he says. " I wanted the experience to be more passive."
It's also important that patients understand that acupuncture offers gradual and cumulative benefits.
"When people go to a physiotherapist or doctor, they would never expect to be healed in a single treatment," says Maxime. "We need to dissolve the myth of instantaneous results."
As such, the clinic is looking for committed, long-term patients. The weight of admin tasks can present another challenge for people trying to run their business and have a life outside of work. It's easy to burn out on the constant logistics of answering the phone and trying to coordinate and schedule appointments around the clock. Maxime didn't want to have to deal with these time-consuming tasks and sought a solution that would let him focus on what he does best.
The Solution
Maxime views his Linkeo website as a showcase that presents his company to the world.
"It's essential," he says. "It has to look great and not contain too much information… It's the business card of our modern times." His Linkeo website does the trick. Beautiful, simple and easy to navigate, the site lets Acupuncture West Island present all their areas of treatment, and the benefits of acupuncture. There is even a "videos" section where the clinic has posted the video series created by l'Ordre des acupuncteurs du Québec, an initiative created to raise awareness on the advantages of acupuncture, while dispelling any common misconceptions. Maxime is an actor in several of the clips, and you'll see he also appears in an interview on MAtv. The clinic has complete control over the website's content and layout.
"Recently, I really appreciated when we revamped the entire website and this re-design was included in the price. It's a good way of keeping everything up to date," says Maxime.
The website is optimized for SEO, increasing the probability that the clinic will appear high on the first page of Google when prospects search for keywords related to acupuncture in their area. To facilitate a seamless booking
process, the website features a "Make an Appointment" button which eliminates their need to hire a receptionist.
The Results
When the clinic first launched their Linkeo site, the sales rep said that it would take 12 to 18 months for the natural SEO to take effect. Maxime remembers that their fifteenth month was in April of 2018.
"It exploded," he says. "Suddenly we had so many patients." And the online booking button means that Audrey and Maxime can essentially fill their schedules in their sleep.
"Sometimes people book at 11 o'clock at night. People I have never talked to show up on my table. It's by far the best investment I've ever made for our clinic."
Maxime has calculated the cost per patient and can conclude that Linkeo's solution offers amazing value for the money.
The clinic gains around 30 new patients from the website every month. Each new patient is likely to come several times, and will refer their friends and family.
"We never stop growing," says Maxime. Following the clinic's great success, Maxime began to give entrepreneurial courses to other acupuncturists.
"I always mention Linkeo," he says. "Our schedules are 100% full," he says. "Now we can concentrate on our strengths. I am very happy with the results."
Check out Acupuncture West Island's website here.
Learn more about Linkeo's website creation services here.