Omicron is upon us and let's just say COVID Christmas Number 2 did not turn out quite as expected. But two years, 713 masks, and who knows how many cancelled plans later, people are too tired to panic. As we ride out this fifth wave, the COVID fatigue is real. And the path of least resistance—the couch, Amazon Prime, and Uber Eats—is more tempting than ever.
If you're a small business owner, to stay connected with your customers, you have some heavy lifting to do. Here at Linkeo, we're big fans of a solid community management strategy. Keep on reading to learn more.
What Is Community Management?
Community Management is about bringing your fans, customers, employees, and partners together around a cause—your brand. It connects a company with its audience and consumers. Through a variety of platforms and outlets, you want to encourage your public to engage, interact, and create a buzz around what you do. In a perfect world, the people who love your company will form an independent entity who promotes your work with minimal effort from you.
Social
Sound like a dream? Social media is a great place to get started. Facebook, Instagram, LinkedIn, and Twitter all have their perks and downsides. But maintaining your social media presence is a little like exercise. The best kind is the kind you won't quit. So, pick a platform, make a plan, and stick to it.
A post a week is fabulous. A post a day is even better. But consistency is key. It's more effective to stay loyal to posting every Wednesday than to post every three hours in early January, only to disappear by Valentine's Day.
For best results, remember to include photos, videos, and a personal touch. And to keep consumer engagement going, make sure to promptly respond to any shares and comments.
Newsletters
Newsletters offer a fun and human way to stay in touch with your customers. While they're perfect for special promo codes and discounts, the magic of the newsletter lies in the opportunity to refine your voice as a brand and give your fans the inside scoop on your business. Share your struggles and victories, and show them who you are.
The versatile, creative outlet also lets you test out new marketing ideas. With stats on open rates, clicks, and unsubscribes, you can see first-hand what your readers are (or aren't) connecting with.
As with social media, a consistent publishing schedule is helpful. But if you do fall prey to a lapse in correspondence, no need to apologize to your fans about how "it's been so long because you have been so ridiculously crazy busy." Just dive right in and get them reading! And beyond your newsletter, once you have a mailing list, you can check in with customers after a purchase or appointment. Encourage them to give you feedback, and ideally, leave a review. Which brings us to—
Your e-reputation
At least nine out of ten customers read reviews before making an online purchase. As a business owner, you want the Internet to sing your praises. This means you need to make it easy for your customers to leave reviews directly on your website and social media pages. Nobody's perfect all the time, but if you average a little more than 4-out-of-5 stars, your e-reputation is in good shape. In case a review goes sour, your response should be prompt and tactful. Avoid angry, indignant, and defensive reactions. Remember that everything you say on the interwebs reflects your brand. Keep calm and stay tuned for more in-depth tips on how to manage negative reviews.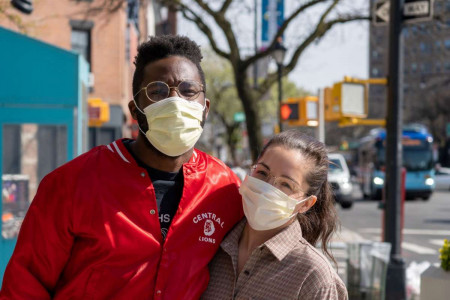 Community Managers at Your Service
Meanwhile, if you'd rather outsource, Linkeo's Community Managers are here to oversee your entire Community Management strategy. On top of your social media posts, they will create and send off your newsletters, moderate your customer reviews, and refine your company's other key marketing aspects. Let's get through Omicron together and bring your customers along for the ride.
Thank you to Volodymyr Hryshchenko on Unsplash for the timely thumbnail image. We love it!